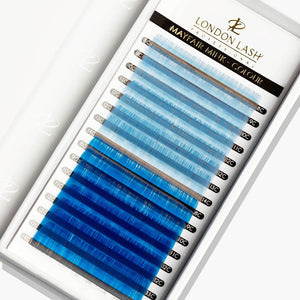 LONDON LASH
Sky Blue / Blue Eyelashes Extensions Mayfair Mink
Regular price
$16.00
Sale price
$28.00
Unit price
per
Free Canada Shipping
Over $125

Incentives for Product
Reviews

Wholesale Discounts on
Orders Over $1,000

Free Product
Consultations
Incredibly soft and light, these coloured lashes are amazing to make a statement! 
Our light blue ( or how we call them Sky Blue) lashes and paired with Blue coloured extensions and put in a Mixed tray for your convenience. 
Coloured lashes can be used in combination with Black lashes and to create creative photo fantasy looks. We recommend using light color lashes with our Crystal Glue, to keep the bases of the lash clean.
This is a great product if you would like to experiment with different colours as it contains our most popular lengths. Buy a couple of these in various shades and you're covered for a wide range of looks without the need to invest much or carry around lots of different packs.

Available in C and CC curls to suit a range of clients! 16 lines MIX Tray from 8mm to 14mm
This product is: 
- Vegan
- Latex-Free
- Not tested on animals
- Formaldehyde-Free
All our lashes are made from 100% Synthetic fibre
In-store Cash Payments are acceptable, for more details please refer to Shipping info
---
Share this Product
---