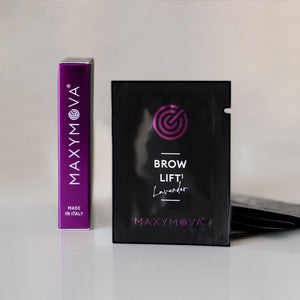 Maxymova
Brow Lamination - Brow Lift 1
Regular price
$28.00
$0.00
Unit price
per
Free Canada Shipping
Over $125

Incentives for Product
Reviews

Wholesale Discounts on
Orders Over $1,000

Free Product
Consultations
Introducing the Maxymova Brow Lift 1 - Brow Lamination Solution, a premium professional-grade product made in Italy. This innovative solution, based on safe and effective cysteamine HCI, is perfect for achieving flawlessly lifted and sculpted brows. It is specially formulated to be gentle on sensitive skin and suitable for dry hair, ensuring a comfortable and secure experience.
Crafted for professional use, the Maxymova Brow Lift 1 Solution offers exceptional performance and remarkable results. It effortlessly restructures and enhances brow hairs, enabling you to create precise and stunning brow shapes that elevate your clients' facial features.
Designed with convenience in mind, this easy-to-use solution allows for smooth application and precise control. Each bottle contains ample solution to accommodate numerous brow lamination treatments, making it a cost-effective choice for your salon or spa.
Maximize your brow lamination services with the Maxymova Brow Lift 1 Brow Lamination Solution, proudly made in Italy. Deliver outstanding outcomes while meeting the demands of your discerning clients. Flawlessly groomed and perfectly styled brows await!
Packaging: 5 sachets of 1.5ml each
POA 4 month
How to use: 
Apply on the length of the eyebrows, and cover with Brow Patch  Leave for 4-12 minutes. After processing time, remove with dry Brush - we recommend MAXYMOVA Brush No3 
Proceed to Brow Fix 2
Finish with MAxymova Lash and Brow Cocktail (use it as a leave-in solution after tint)
Processing time depends on the hair thickness:
Thin - 4-5 min
Medium - 6-7 min
Normal to thick - 8-9 min
Very thick - 10-12 min
In-store Cash Payments are acceptable, for more details please refer to Shipping info
---
Share this Product
---