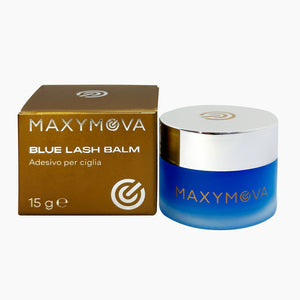 Maxymova
Blue Lash Balm - Lash Lift Glue
Regular price
$29.00
$0.00
Unit price
per
Free Canada Shipping
Over $125

Incentives for Product
Reviews

Wholesale Discounts on
Orders Over $1,000

Free Product
Consultations
Looking for a lash lift adhesive that is easy to work with, doesn't dry fast and does not leave a glue residue? 
MAXYMOVA Blue Lash Balm is an eyelash lift glue without glue. It has a balm like texture which allows to lift and place the natural lashes onto the lifting rod quick and because it doest dry out like a conventional lash lift glue, you will have time to reposition lashes, brush them through and fix the natural lashes on lash lift shields as many times as needed. 
The lash balm does not only fixate the natural lashes, it also creates an invisible shield around them helping to protect natural lashes from drying out during the application of Step 1 and 2 of the lash lift.
The Blue Lash Balm from MAXYMOVA is fast and easy to work with. we know that the most time lash lift technician spends on fixating the lashes, positioning them properly and making dure the natural lashes will not pop off during the application of Lash Lift and Fix. Well these problems vanish, when you are working with Blue Lash Balm. It can be reapplied during the procedure, but also the fixation of the natural lashes becomes a breeze, simply lift the lashes on the lash lift curler and brush them using MAXYMOVA Golden Y-tool. 
Size: 15g glass jar
Scent: Blueberry
Made in Italy 
See in action: https://youtu.be/tMrV_B8MwAE
In-store Cash Payments are acceptable, for more details please refer to Shipping info
---
Share this Product
---