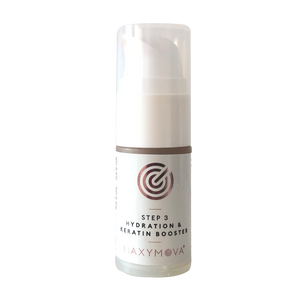 Maxymova
Step 3 Hydration & Keratin Boost
Regular price
$35.00
$0.00
Unit price
per
Free Canada Shipping
Over $125

Incentives for Product
Reviews

Wholesale Discounts on
Orders Over $1,000

Free Product
Consultations
Hydration and Keratin Boost is the final and most important step in the Lash Lift or Brow Lamination Procedure. Hydration and Keratin are two essential components of a successful lash lift treatment. Hydration refers to the process of infusing the lashes with moisture, which helps to promote elasticity and prevent breakage. This is achieved through the use of a specialized lash lift solution that contains hydrating ingredients such as hyaluronic acid and glycerin.
Keratin Boost, on the other hand, involves applying a keratin treatment to the lashes. Keratin is a protein that is naturally found in hair and helps to strengthen and protect the hair shaft. By applying a keratin treatment to the lashes during a lash lift, the lashes become stronger and more resilient, which helps to prevent breakage and promote healthy growth.
Together, Hydration and Keratin Boost work to enhance the overall appearance and health of the lashes, resulting in a fuller, more voluminous look that lasts for weeks.
HOW TO APPLY:
Apply a small amount with a brush after you have removed the tint from lifted lashes. 
Step 3 is a leave-in treatment that does not need to be rinsed.
 Should be used after Step 1 and Fix 2 
Made in Italy 
Container - 15g
In-store Cash Payments are acceptable, for more details please refer to Shipping info
---
Share this Product
---