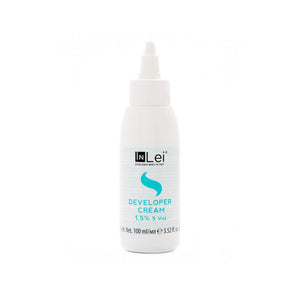 InLeI
InLei® Tint Developer Cream
Regular price
$15.00
Sale price
$16.00
Unit price
per
Free Canada Shipping
Over $125

Incentives for Product
Reviews

Wholesale Discounts on
Orders Over $1,000

Free Product
Consultations
"In Lei" Tint Developer Cream 
- necessary for developing the tint before using on the brows
- adds depth and richness
- protects brows and lashes
- does not alter the pH of the dye
- does not damage the structure of the hair
The shade of the dye will be dependant to some extent on the shade of the natural eyebrow hair, but more cream can be added to the dye in order to get a lighter shade of dye, or less for a deeper shade.
Each bottle contains 100ml, made in Italy
IN LEI® DEVELOPER CREAM 1,5% 5 Vol. Est une émulsion oxydante stable conçue pour fonctionner en combinaison avec les colorants IN LEI®. Grâce à sa texture particulière, il permet un mélange rapide avec la crème colorante et une application facile sur les cils.
- 100% Made in Italy
- usage professionnel seulement
- Sa formulation calibrée à 5 VOL . garantit un résultat constant et uniforme, pendant la coloration, dans le respect maximum des cils.
- Contenu: 100 ml (c.200 applications)
In-store Cash Payments are acceptable, for more details please refer to Shipping info
---
Share this Product
---